WELCOME TO BLOW UP

1st INTERNATIONAL KENNEL
OF MASTIFF IN ARGENTINA
WE BREED SPECIMENS SINCE 1998 WITH IMPORTED
DE USA, BELGIUM, MEXICO AND SLOVAKIA.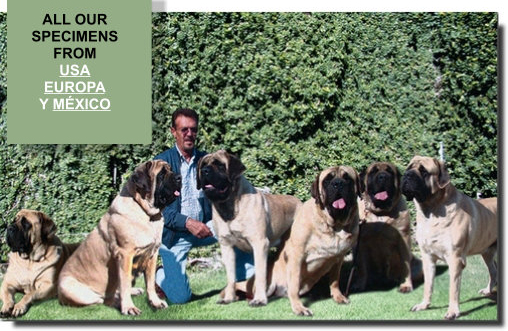 2012:Argentine

" Int. Ch. Olivia of Blow Up " CGC , CACIB , Best of Breed.27 months
" Jerónimo du Domaine de Straz" CAC , CACIB , Best Op sex.19 months
" Kayla du Domaine de Straz" Best of Breed Junior. 13 months
2011: Global Exposure Paris and Dinamarca
Diego Strazzeri Kennel Domaine Destraz Belgium,
Antinio Fracassi Kennel Del Fracasso Italy
Fabricio Bellotto Kennel Du Ranc de Bannes France
with Jorge Irós in World Dog Show París 2011.

Inger María Lakjer Serena kennel Zondors Denmark. Diego Strazzeri Kennel Domaine Destraz Belgium with Jorge Irós
in Dog Show in Denmark
One of our dogs triumphant in the U.S. and Canada.
"Beowulfs Córdoba de Blow up"
Son of "Diesel" and "Breezy"
American Champion and Canadian Champion at 16 months.
"Beowulfs Córdoba" was born in our kennel and currently lives with his owner Susann Everett in the U.S.
My beginnings in the world of purebred dogs, was with a beautiful specimen of Irish Setter, back in the sixties.
Later in the nineties I started to breed Scottish Terriers, a breed that filled me with great satisfaction and countless awards in shows, even winning the national ranking.

In 1998, during a trip to the U.S. I had the chance to attend an exhibition in New York and in one of the tracks, I could admire more than fifty specimens of the Mastiff breed; impressive, magnificent.
I couldn't ignore the fantastic sight provided by these giants, worthy, as they were in sad times, of the Roman circus.

I researched about breed, acquired literature, and decided to bring Takunda, one of the first mastiffs specimens imported into Argentina. A beautiful seven-month female from the renowned kennel "Beowulfs Mastiffs" in New York, of Susann Everett. I eventually developed nice friendship with her and her husband who are very warm people and have always been very hospitable when I visit them.

As a breeder she has great ability and professionalism. Her kennel produced hundreds of American and Canadian champions. Many times her specimens stand out in the main specialized breed shows in the U.S.

In 2000, I imported from the same kennel a stunning male, "Beowulfs Road Warrior" "Diesel" of six months, who won the titles of Champion and Grand Champion of Argentina, was Uruguayan Champion in the National Ranking 2002 and 2003, Latin American Champion, International Champion, Winner of SICALAM and was multiple Best in Show.

In 2005, in order to continue breeding with imported specimens from the same Kennel "Beowulfs " from the U.S., I brought Ch Arg "Beowulfs Breezy" a beautiful female, selected by pedigree and structure for "Diesel".

I was honored to welcome Susann Everett, top breeder of mastiffs in the U.S. and owner of "Beowulfs" kennel, and her husband, Scott, at home. Together we evaluated the exceptional litter born of "DIESEL" and "BREEZY" and she selected a male to take back to the U.S. where he competed claiming the title of "American Champion" and later was taken to Canada winning the title of "Canadian Champion".

This is an outstanding achievement for my kennel and an opportunity to exchange personal experiences with a breeder of great importance and knowledge of the breed as Susann Everett.
Later, I brought from the same kennel "Beowulfs Syracuse" "Shyraz", a spectacular female. She obtained countless victories on the track including the title of Champion and Argentine Grand Champion, Chilean Champion, Latin American Champion, International Champion, Winner of SICALAM, and Best in Show.

To continue to improve the breeding of specimens with the highest quality and in order to open the bloodlines and maintain the purest qualities morphological and temperamental from English Mastiffs, recently I decided to import European lines.

One of our stud is "Jerome du Domaine de Straz". Comes from my friends Sabine and Diego Strazzeri's kennel, from Belgium. They have been breeding mastiffs for many years; taking care of the structure, beauty and movement. They have produced more than 125 specimens of more than 125 kilos who were outstanding in the major European shows, obtaining such important titles as "World Junior Champion"with 66 mastiffs on the track at the World show in Denmark.
They also obtained the top positions in the major show of Crufft, England with 94 mastiffs on track. Their specimens have obtained Champion titles in all European countries.

Sabine and Diego Strazzeri not only take care of the structure and beauty of the mastiff, but also place special emphasis on the proverbial temperament of this breed. Their specimens perform as therapy dogs in nursing homes, with disabled children, etc.

"Jerome du Domaine de Straz" came home with their breeders and I had the precious opportunity to spend some time with Sabine and Diego Strazzeri. Really nice people with great experience in mastiff breeding.
It was really priceless for me as a Latin American breeder to be able to exchange views with such knowledgeable people on the different bloodlines of the European continent.7

I have currently added two spectacular puppies a male "Tyson Slnko Zemplina" and a female "Pretty Slnko Zemplina" from Dr. Polievka Mikulas' kennel from Slovakia. They have an impressive structure and beauty, famous specimens for its size and correction, with English and American blood lines of typical and large specimens.

I think I have achieved with these last two specimens, the best European lines.

This ancient breed went from war and fight dog to guardian of castles and now, after careful selection, has become an excellent guard dog and family pet.
My mastiffs are my life partners and live with me, my family, and friends, in place they deserve.
If you are considering or have decided to have a mastiff keep you company and protect your family, I am at your disposal to give you advise and share all my experience about this exceptional breed.
Dr. Jorge E. Irós